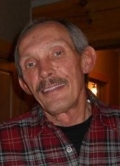 Patrick L. Lampert
Obituary

Patrick L. Lampert
RAPID CITY | Patrick Lee Lampert, 60, died peacefully Friday, August 3rd, 2012 at Fort Meade Veterans Hospital.
He was born in Newcastle, Wyoming on March 26, 1952 to Jack and Dorothy (Patten) Lampert. He was the fourth of five boys, being the first to be born in a hospital. As a child, he grew up in western Custer County, Pringle and Fairburn, S.D. In junior high the family moved to Rapid City, where he graduated from Rapid City High School in 1969.
Pat moved to Denver briefly after high school before joining the United States Navy in 1970. Receiving training as an electrician's mate, he served honorably in combat during Vietnam until his discharge in 1974.
After his service, he worked in a variety of management and sales positions, specializing in wholesale industrial electrical supply. That career moved him across the country from Colorado and Wyoming to Illinois and Indiana. Most recently he was employed at Dodgetown in Rapid City.
Pat was a prodigious cribbage player and loved playing with friends and family every chance he got. He loved to solve crossword puzzles (especially Sunday) and read often, finishing a novel or two a week. He also loved the outdoors, finding peace and serenity in exploring his native Black Hills.
He was preceded in death by his mother and father, as well as many aunts, uncles and cousins.
Survivors include his children; a daughter Angela, Rapid City, and her two children Josh and Emily; two sons, Michael of Spring Hill, Tenn., his wife Michele and their sons Jacob and Ethan, and Zachary, Rapid City; four brothers, Phil and Dave, both of Custer; Jerry, Bonita, Calif.; and Bob, Cheyenne, Wyo.; and an aunt, Mildred Wright, Story, WY.
Visitation will be held from 5:00 p.m. to 7:00 p.m., Sunday, August 5th, at McColley's Funeral Home in Custer.
Services will be at 10:00 a.m., Monday, August 6th at Custer Community Church. Burial will be at a family plot in Cold Springs Cemetery.
Pallbearers will be Joshua Lampert, Phil Lampert, Dave Lampert, Jerry Lampert, Bob Lampert and Dana Parks.
The family suggests memorials to the Cold Springs Historical Society of Pringle, SD.
Arrangements have been placed in the care of McColley's Chapel of the Hills in Custer.
An online guestbook is availagble at www.mccolleyschapels.com.
Published in Rapid City Journal from August 5 to August 6, 2012