Alma Blanche Lampert was born June 14, 1906 at Rapid City, SD. On August 12, 1932 she married Charles Francis Evans. Charles Evans was born April 1, 1905 at Lead, SD and he died July 5, 1944 at San Diego, CA at the age of 39. Blanche and Charles were divorced and on September 5, 1953 she married Everett Robert Cammack at Rapid City, SD.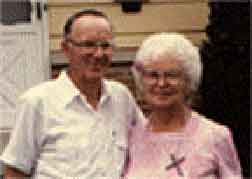 Everett was born August 11, 1900 at Deadwood, SD. Blanche attended the University of South Dakota and Black Hills Teachers College. While she and Charles Evans were married she lived in Lead, SD where Charles worked for the Homestake (Gold) Mining Company. Later she moved to Rapid City where she worked for the Rose Marketeria located on the corner of 8th St. and St. Joe for over 15 years. She also worked at the Credit Bureau and also for Arthur A.Lampert MD. Before Blanche and Everett were married he lived in Sulfur area of Wyoming for a few years; in 1926 he moved to a ranch near Sundance, WY. Everett's first wife died in 1951 and he has two sons by his first marriage. LeRoy Robert Cammack born October 1, 1923 and died December 15, 1988 at the age of 65 and Lloyd Dale Cammack born August 28, 1928. Blanch died on June 7, 1998 and is buried at Mountain View Cemetary in Rapid City. Everett died on July 20, 2000, age 99 at West Hills Village in Rapid City. He is buried at Mountain View Cemetary in Rapid City.
Children of Blanche and Charles Evans
James Arthur Evans born June 7, 1933 at Rapid City, SD married Jane Campbell (born January 19, 1935 at Lincoln, Nebraska) on June 9, 1956. Jim has a BS from the University of Nebraska, taught in the Rapid City Public School System and then went to the Loyola University Dental School specializing in Orthodontics. Jim practiced and taught for a while in the Chicago Area before returning to Rapid City and opening an orthodontic practice there. Jane is an LPN and is in charge of the library at the Black Hills Regional Eye Institute. Jim does extensive teaching as well as carrying on an active practice. Jim and Jane have three children.
---
Bruce Allan Evans born June 14, 1957 at Rapid City, SD Bruce is a graduate of the University of South Dakota Medical School and the Florida Dental School and the University of Minnesota with a specially in orthodontics. Bruce and Jim are in practice together.Bruce married Michele Jane Petrik on May 1, 1998 at Rapid City, SD. Michele is a graduate of the Mayo Clinic School of Health with a Masters degree in Physical Therapy. They have three children.

 

---

Lori Lynn Evans born September 10, 1958 at Rapid City, SD is a graduate of Arizona State University with a degree in Recreational Therapy. She married Devin Pesicka (born September 11, 1963) on November 27, 1989 at Hawaii. Devon is a graduate of Mt. Marty College at Yankton, SD. Lori and Devin have three children. Devin is a manager for the Common Cents Stores, Northern Hills Division.

---

Bradley James Evans born December 17, 1959 at Rapid City, SD is a graduate of the University of South Dakota School of Medicine. Brad did a residency at Colombia, MO and a fellowship at Tulane University, New Orleans,LA in Ophthalmology and practiced in Maui, HI for a time until entering Pacific Dental School, San Francisco, CA. Brad married Brenna Rae Denton on October 4, 1996 at New Orleans, LA. Brenna was born on September 16, 1967 at New Orleans. Brad and Brenna have two children and reside at Rapid City.

---
Mary Elizabeth Evans born April 29, 1936 at Lead, SD married Peter Wallace Holleman (born August 19,1936 Orange City, IA, died 1989 at Largo, Florida) on June 9, 1957. Mary graduated from the University of South Dakota with a BS Ed. She taught school in Rapid City and did some private tutoring. Peter obtained a MS in chemistry from the South Dakota School of Mines and Technology and another MS in Industrial Management from Purdue University, West Lafayette, IN. They lived in New York,California and Arizona before Peter purchased a business in Largo, Florida. After Peter died Mary sold the business and she now spends time in Clearwater, FL, and Prescott, AZ. Mary and Peter have three children.
---
Judith Blanche Holleman born April 7, 1961 at West Lafayette, Indiana. She received a degree in computers and accounting from Tampa College, Tampa, FL. and worked as a comptroller for her father until his death and the business was sold. She has also worked as an Air Traffic Controller, and is enrolled in nursing.

---

William Wallace Holleman born July 31, 1962 at Englewood, NJ married Kim Lee (born April 1958 at Taiwan) on July 29, 1989 at St. Petersburg, FL. William has a BS in Electrical Engineering (University of Florida) and an MS in Industrial Management from Purdue University. He works for Delta Airlines in Atlanta, GA. William and Kim have one child, Angela Holleman born February 20, 1991 at Florida.

---

Susan Kress Holleman born on July 6,1966 at Long Island, NY. She attended Cottey College, Nevada, MO, and Black Hills State College in Spearfish, SD and nursing in Rapid City, SD. She has one child, Catherine Marie-Lee Cadotte born September 21,1992 at Rapid City, SD.

 

---
Charles (Chuck) Lampert Evans was born October 6, 1938 in Deadwood, SD. He attended both the University of Colorado and the SD School of Mines. He completed his B.A. in mathematics at the University of South Dakota. Chuck then worked in Chicago, IL in the field of computer programming. He graduated from Loyola University in Chicago and recieved his D.D.S. degree with a specialty in Orthodontics.

Chuck married Evonne Anne Kinowski, born October 30, 1951 at Milwaukee, WI, on December 28, 1992. Evonne has an associate degree in commercial art and worked as a graphic artist while completing her undergraduate studies in pre-med at the University of WI-Milwaukee. She then went on to receive her D.D.S. and M.S. specializing in Orthodontics from Marquette University in Milwaukee, WI. Chuck and Evonne practice orthodontics in Waukesha, WI. Their website is www.evans-orthodontics.com. As explained on the web site, Evonne performs as a singer and sax player. She also developed an elementary dental health program that received both state and national recognition.
Chuck has four children.
_____________________________
Gregg Allan Evans was born on May 18, 1966 in Chicago, IL. He obtained a B.S. in finance at Carroll College in Waukesha, WI. He received a M. Ed. in recreation at the University of Minnesota. Gregg works in the field of recreation and referees basketball and volleyball. Gregg married Guadalupe Thelen, born July 7, 1971 in Houston, TX. On August 24, 2002. Guadalupe completed her micro computer specialist degree in of 2004.
---

Bryn Ellen Evans was born October 31, 1967 at Waukesha, WI. Bryn graduated with a B.A. in elementary education from Carroll College in Waukesha, WI. Bryn married Charles Thomas Perry, born December 13, 1959 in Saginaw, MI, in August 1990 in Waukesha, WI. Chuck works as a precision hand grinder for Carbide Grinding Company and UPS. He is involved in many sports, including softball, biking and weight lifting. Bryn is an elementary teacher. Bryn and Chuck have 3 children.


Jenna Lynn Perry born March 21, 1992 in Waukesha, WI.
Jocelyn Jae Perry born December 21, 1993 in Waukesha, WI.
Chaz Taylor Perry born July 22, 1995 in Waukesha, WI.

---

Timothy Charles Evans was born October 8, 1970 in Waukesha, WI. He graduated with a B.A. in physical education from Carthage College in Kenosha, WI. Tim works for Thomas Register in the field of industrial marketing on the internet. Tim married Marcee Harmon, born September 16, 1970 in Seneca, IL in December 1998. Tim and Marcee have three children.

Aubree Brielle 11/23/01
Kylee Alexandra 11/23/01
Shae Elizabeth 11/20/04

---

Jason James Evans born September 18, 1976 in Waukesha, WI. Jason graduated in 1999 from the University of WI Madison with a degree in botany. Jason enjoys exploring our national parks, hiking and fly fishing. He has been employed in the biosystem field.