*Special note: The Marshall Family history can be traced back to the Revolutionary War, and those direct lineal decendants may be eligible to join the Sons of the American Revolution or The Daughters of the American Revolution. (9).
---
The earliest Marshall that can be readily identified and documented is Peter Marshall of Massachusets and Vermont born in the year 1712. He married Sarah Davis on March 20, 1745 at Dudley, Massachusetts. Peter and Sarah had seven children in Dudley between 1745 and 1757; Isasc Marshall, Clemet Marshall, Reuben Marshall, Sarah Marshall, Amasa Marshall, Rachel Marshall, Molly Marshall, and Thomas Marshall. Peter served in the Revolutionary War as a private in Captain Haynes' Company in Colonel Whitcomb's Regiment.
---
Clemet Marshall was baptized May 3, 1747 at Dudley, Massachusets. He married Dorcas Woddard on December 30, 1771 at Deerfield, Massachusetts. Clemet also served in the Revolutionary War. In 1775 he was in Captain Reuben Dickinson's Company of Minute Men, one of the first Companies to respond to the Lexington Alarm. He participated in the battle of Bunker (Breed's) Hill. In 1777 he took part in the Northern Army's action against Burgoyne which lead to Burgoyne's surrender at Saratoga. Clemet was discharged from the Army on October 18, 1777. Clemet and Dorcas had tweleve children, nine of whom have been identified. Joseph (the oldest), Caleb, Amasa (the third son who is the great granadfather of Guy, Harry and Helen Marshall), Samuel, Ora, Esther, and Perley. Clemet Marshall died May 2, 1815 at Stowe, Vermont. (Clemet Marshall is the great great grandfather of Guy, Harry, Helen and Julian Marshall.)
---
Amasa Marshall was born probably about1779 in either Amerst or Leverett, Masachusettes. Amasa married Mary Polly Holden at Waterbury, Vermont. Eight children were born to Amasa and Mary, six of whom have been identified. Colombus (the eldest), Leander Jay, Albert Jay (great grandfather of Guy, Harry, Helen and Julian Marshall),Valeria, Frances M., and Louise H.
---
Albert Jay Marshall was born in 1818 either at Stowe or Jericho, Vermont. Albert married Loretta Wertz Warner on May 18, 1846 at Jo Davies County, Illinois. Albert obtained his MD degree from the University of Michigan in the 1840 's and was a member of that Medical School's first graduating class. Albert and Loretta had four children. Charles Albert Marshall b.July 8,1847 (father of Guy, Harry, Helen and Julian Marshall), Cecelia Josephine Marshall b. 1850, Austin Warner Marshall b. 1857 or 1858, Joliet b. 1860, and Bessie Marshall b.1862. All the children were born in Nora, Illinois. Juliet and Bessie died in infancy. Dr. Albert Jay Marshall died of pneumonia at Nora, Illinois on December 30, 1862 at age 44.
---
Charles Albert Marshall (b. April 27, 1848 at JoDaviess County, IL) married Lovedy Ann Stephens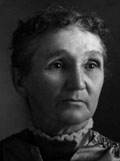 (b. July 8, 1847 at Scalesmound Township, Illinois) at Nora, Illinois on July 19 1868. Charles was a private in Company B of the 142 Illinois Infantry during the Civil War, and was a 'crack shot' with the old Sharps rifle. After the Civil War he became an expert carpenter. He constructed many of the buildings on the Santee Sioux Indian Reservation, the Yankton Sioux Indian Reservation and the Ponca Reservation. Charles Albert Marshall was fluent in the Lakota (Sioux) language. He knew Sitting Bull, Rain-In-The-Face and Calamity Jane. Charles and Lovedy Ann moved to Rapid City, South Dakota in 1876 and homesteaded in what is now known as Rapid Valley. (Rapid City wasn't incorporated as a town until 1882) In 1883 he helped establish a Brick Business in Rapid City. Charles died at the Old Soldiers Home in Hot Springs, SD at the age of 58 from tuberculosis on May 7, 1906. Lovedy Ann Marshall died at the age of 88 on June 29, 1936 at the Old Soldiers Home in Hot Springs, SD. Charles and Lovedy Ann had nine children.
Zella Juliette Marshall b.?, d. November 25, 1908.

Myrta Celia Marshall b. August 25, 1871, d. September 26, 1873.

Harry Albert Marshall b. ?, d.? Married Jessie May Ferguson. Four children were born to Harry and Jessie. Two died in infancy. The other two were Charles Boyd Marshall (married Ruby Hart) and Harry Clifford Marshall (married Margaret ?, had one daughter Patricia)

Loretta Ann Marshall (married John Daniel McFarlane. They had 6 children, Cecelia May MacFarlane, Charlotte McFarlane, Fred D. McFarlane, Zella McFarlane, Lillian McFarlane, and Marshall McFarlane.)

Warner Jay Marshall

Guy Irwin Marshall (b. September 23, 1879, d. April 20, 1918 ) married Ethel Malissa Munro March 4, 1908. Ethel Malissa Munro was born October 22, 1881 at Southwold, Ontario, Canada and died on April 30. 1914 at Detroit, MI at the age of 32. Guy and Ethel had two children; Helen Alice Marshall (later known later as Helene to distinguish her from Helen Marshall Lampert), and Evelyn. Apparently Evelyn b. June 4, 1912, died of pneumonia (?) at Detroit, Michigan (?). See Helene on the Arthur A. (1) Lampert page.

Willard Charles Lampert (b. June 8 , 1884, d. ?) no children.

Helen Emma Marshall (born November 26, 1886, d. December 1, 1965) Married Arthur Arno Lampert (1) on February 5, 1909. Helen and Arthur had three children; John Arthur Lampert (b. November 11, 1909, d. March 9, 1995), Arthur Arno Lampert b. August 4, 1912), and Orlin Walter Lampert (b. October 9, 1924).

Julian Stephen Marshall (b. November 13, 1895, d. Febrary 6, 1982, Spokane, WA) married Marion Julia Richmond (b. September 25, 1896 at Portland, Oregon. d. September 24, 1976 at Spokane, WA) Two children were born to Julian and Marion; Richmond (Dick) W. Marshall (b. October 12, 1921) and James (Jim) Stephens Marshall (b. February 12, 1926). Julian Stephen Marshall was certified by The National Society of the Sons of the American Revolution as a member on January 24, 1973 and given the National Number 103306.