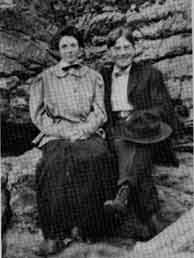 Arthur Arno(1) was born July 22, 1884, at Rapid City, South Dakota, and died Sept 8, 1932, at Rapid City at age 48 . He married Helen Emma Marshall on February 5, 1908, in Rapid City. She was born November 27, 1886, at Rapid City, and died December 1, 1965, at Rapid City at age 79. Arthur Arno obtained a business diploma from the Black Hills College in Hot Springs on May 24, 1900. Thereafter, he worked for his father,at the Rapid City Lumber and Machinery Company which was located on the corner of 5th and St. Joseph St.until Jacob's death. In partnership with his two brothers and brother-in-law, George P. Bennett (sister Alma's husband),he became manager. Arthur Arno was actively involved in community affairs, including the volunteer fire department and was the second born native Rapid Citian to serve as mayor. His marriage to Helen Marshall was one of the first, if not the first, marriage between native born Rapid Citians. Before her marriage, Helen attended the South Dakota School of Mines and Technology for one year. She taught in a one-room country school south of the mining town of Rockerville. After their marriage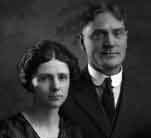 Helen and Arthur Arno had three sons who were introduced in their early years into the workings of the family business by running errands, sweeping floors and delivering materials. Recollections of the three sons, and other family members associated with the company recall that the business suffered severe hardships following the depression of 1929. With Arthur's death in 1932 from a ruptured appendix, the situation of his family became critical financially. Helen,needing to support her family, moved into an apartment, rented the family home and started a lending library which failed after one year. She then worked at the Chamber of Commerce. At some point she became the manager of the Rapid City Credit Bureau, a position she held until her retirement.
Children of Arthur Arno (1)
---
John Arthur(Jack) was born November 11, 1909, at Rapid City and died March 9, 1995, at Rapid City at age 85. On April 15, 1934, Jack married Ruth Steile at Hilland, South Dakota. She was born June 4, 1914, at Bristol, South Dakota and died December 24, 1998 at Rapid City.

Jack was a graduate of the South Dakota School of Mines and Technology with degrees in mining and engineering. He was employed for two years with the S.D. Highway Dept.in Pierre; spent 5 years on the engineering staff of the Hecla Mining Company in Wallace, Idaho; one year as chief tunnel engineer for Rumsya Puget Sound Company of Bremerton, Washington; two years as a layout engineer in charge of four departments for E.I duPont in Richland, Washington. After the start of World War II, he enlisted in the Seabees and spent two years as the executive officer of dry dock operations in Guam and Okinawa. Jack's most memorable and frightening experience in the service occurred as their floating dry dock was being towed from Guam to Okinawa when a typhoon struck and the rope between the tow vessel and the dry dock had to be released. The dry dock had no means of power, and was in danger of being overturned by the huge waves. Jack ordered the air bled off from the pontoons supporting the dry dock sinking it lower in the water. The men lashed themselves to the upper structures to avoid being washed overboard. During the storm, the dry dock broke in half, and Jack was lucky to be on the section that remained afloat. The survivors were rescued one day later by a destroyer. After his discharge, Jack and Ruth moved back to Rapid City and together with Charles Laws established the Lampert Home Improvement Company. He then moved his family to Poplar, Wisconsin and bought the Poplar State Bank, returning to Rapid City after a short time to operate the Lampert Home Improvement Company. During those years as a businessman, he began to get interested in real estate and obtained a broker's license in 1967. Immediately after the devastating Rapid City flood of 1972, Jack was appointed by the Federal Housing and Urban Development Agency to oversee the relocation of citizens who's homes had been destroyed, and to appraise flood damaged property. He continued his involvement in real estate for the next twenty years as a full-time appraiser for the VA, FHA and various banks in the Rapid City area. In addition to his business acumen, Jack served his community by his active participation as a board member of the SDSM&T Foundation, Minnelusa Pioneer Museum, and belonged to several civic and fraternal organizations such as the Masons, Shrine and Lions Club. Jack and Ruth had one daughter, Barbara Joan who was born December 14, 1944.
---
Arthur Arno (2), second son of Arthur and Helen was born August 4, 1912, at Rapid City. Arthur was given the name of Arno Willard Lampert at birth but during a severe illness (likely the influenza epidemic of 1918 at age 5 or 6), when he was near death his name was changed to Arthur Arno so he could have a name 'like his dad's'. Surgery, included removal of a rib to drain an empyema (abscess) of the lung and saved his life. He married Frances Elizabeth Williams on September 26, 1936. Frances was born on February 4, 1909, at Kirkland, Indiana. She received a BS in Nursing at Indiana University. Arthur and Frances had one son, Arthur Arno (3), born on August 25, 1941, at Rapid City, South Dakota. Following the end of World War II, Frances and Arthur divorced. On December 8, 1946, Arthur married Altha M. Clausen, born on February 15, 1915, at Springfield, South Dakota. Arthur and Altha had two daughters (adopted), Jerolyn M. born March 4, 1943, at Rapid City, and Cheryl M. born June 3, 1944, at Rapid City. His second marriage ended in divorce after 20+ years. Arthur then married Joan M. Papke, born May 30, 1925, at Norfolk, Nebraska. She was a graduate of the Creighton University School of Nursing, Omaha, Nebraska, and practiced her profession until her retirement in 1985. Joan had one daughter, Jackie (Papke) Cooper by a previous marriage. Arthur (2) chose medicine as a career, graduating from Northwestern University (BS), Evanston, Illinois, and obtained his medical degree from Northwestern in 1936. He did three years of post graduate surgical training at Harper Hospital, Detroit, Michigan. Arthur was a practicing physician and surgeon in Rapid City from 1939 until his death in 1999, interrupted by a five year stint in the US Army Medical Corps during World War II. During WW II Dr.Lampert received advanced neurosurgical at Guy's Hospital in London, England. He then did extensive neurosurgery for the duration of the war. Discharged in 1946, he returned to Rapid City where he resumed medical practice until retiring in 1985. He continued to do consultative work for the South Dakota Department of Human Services until his death. Arthur died on December 13, 1999 at age 87 after contracting Valley Fever while at his winter home in Lake Havasu City, AZ. Asked why he didn't continue to do neurosurgery at some major institution after the war he replied "because I can go trout fishing within 10 minutes of my office in Rapid City, SD." Indeed, he was an avid fisherman. He was active in State and National medical politics throughout his career and was instrumental in helping write the initial rules for the U.S. Medicare program after being appointed to do so by President Richard M. Nixon. Arthur Arno Lampert (2) was cremated and his ashes are buried at the Fort Meade National Cemetary near Sturgis, SD.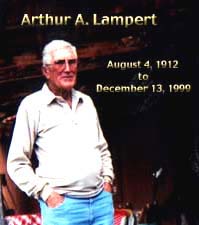 ---
Orlin Walter (Walt), third son of Arthur and Helen was born at Rapid City on October 9, 1924. Walt served in the US Army during WW II, and after coming home married Winifred (Win) Jane Wilkes on October 9, 1946, at Luverne, Minnesota. Win was born on December 7, 1926, at Sioux Falls, South Dakota. Following their marriage, he enrolled in the University of South Dakota at Vermillion and finished in Industrial Engineering in 1949. He then went to work for Caterpillar Tractor Company in Peoria, Illinois until 1951 when he was assigned to Australia, New Zealand and the Pacific Island groups. In 1956 Walter began his employment with General Motors Corporation and remained with the company until his retirment. While at GM Walt was responsible for earthmoving operations in Southern Europe and Africa (1956); was in charge of introduction of new World Wide accounts (1959); managed fleet sales and major overseas accounts (1963); managed General Motors Overseas Distribution Cooporation (1968); and in 1972 he became General Manager of GM's Overseas Operations a position he held until his retirement. Walt is fluent in several languages and has traveled extensively. Winney has been Walter's partner and traveled with him often. They have been to Flasch and remember it as a 'tiny town' and have seen the ancestoral home. Win is active in writing and poetry groups and is very involved in PEO. They make their home in New Jersey. Walt and Win have three children. Donald Keith born June 18, 1951, at Peoria, Illinois. Susan Claire born May 23, 1954, in Peoria and James Walter born October 31, 1955, at Wellington, New Zealand.
---
Helen Alice Marshall Lampert

(b. April 25, 1909 Rapid City, South Dakota, d. November 18, 1983 at the age of 74 in Bend Oregon.) She lived the last years of her life nearby her three daughters Evelyn, Mariam and Kathleen. Helen (also known as Helene) married Donald Peter McFarland on October 7, 1929. Donald was born November 22,1908 at Crawford, Nebraska. He died at San Clemente, CA on ? of the complications of emphysema. Helen's parents were Ethel Malissa Munro (b. October 22, 1881, Southwold, Ontario, Canada; d. April 30, 1914; Detroit, Michigan at the age of 32.) and Guy Irwin Marshall (b. September 23, 1879; d. April 20, 1919, at the age of 40.) Both Guy and Ethel died of the complications of tuberculosis. Prior to his death Guy in his Last Will and Testament appointed his sister Helen Lampert guardianship of his daughter, Helen (who later became known as Helene). Helene would have been 5 years old when her mother died and 9 when her father died. She lived with her grandmother, Lovedy Ann Marshall at Corvallis, Oregon and Oregon City, Oregon with Lovedy Ann's son Julian Stephen Marshall (b.November 13, 1895, d. ?) and daughter Loretta before moving back to Rapid City. There is documentation that Helene began living with Arthur and Helen at their home at 914 West Boulevard, Rapid City, SD in the 1920 's and raised as a sister to Jack, Arthur and Walter. In doing the research on Helene several interesting facts need to be highlighted. Helene was born in Rapid City in 1909 but no birth certificate was ever filed until December 31, 1930. The testator on the birth certificate was Arthur A. Lampert (1). Presumably because Helene was born at home and in that era it was a common practice for many to not file birth certificates. Helene was voted as "prettiest girl in the school her senior year in High School". Helene and Donald McFarland were married at the home of Arthur A. and Helen Lampert at 914 W. Boulevard and shortly thereafter moved to Los Angeles, California. During World War II Donald served his Country from September 12, 1942 to March 12, 1946 as a Captain in the 39th Ordnance Division. For his service and participation in the "Battle of the Bulge" he was awarded a Bronze Star. Donald and Helene had three chilren. Donald and Helene were divorced in December 1961 however they remained as friends and cooperated in the rearing of Kathleen and as grandparents. Helene and Donald had three children. Evelyn McFarland b. July 5, 1933 at Los Angeles, CA; Mariam Diane McFarland born November 8, 1934 at Los Angeles, CA and Kathleen Mavourneen McFarland on October 10, 1947 at Pasadena, CA.
---